Minnesota's coronavirus status (March 28, 2020)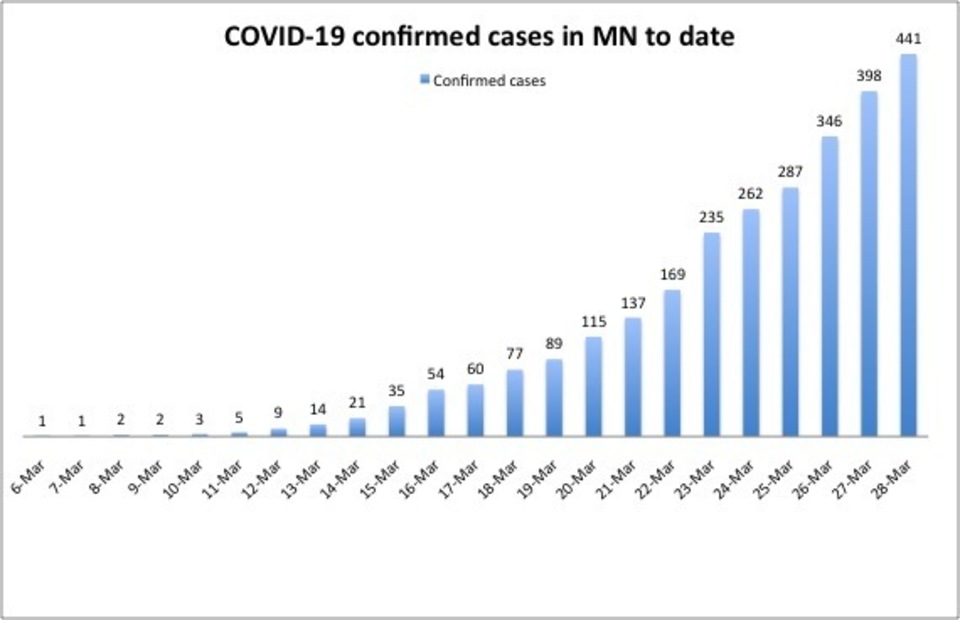 The Minnesota Department of Health announced 43 new lab tested positive cases of COVID-19 March 28 for a total of 441 confirmed cases across the state. Of these cases, 57 have been hospitalized with 30 currently hospitalized, 13 of which are in the intensive care unit. MDH also announced another death due to the coronavirus. This individual was a Hennepin County resident in their 70s with underlying health conditions. This latest case increases the death toll to five in Minnesota. 
Saturday's cases range from 2 to 73 years old. The age range of all cases remains at 5 months to 104 years old. Approximately 7,290 patients have been tested at the MDH Health Lab since Jan. 20, 2020, and another 8,839 have been tested at external laboratories.
The case load also includes 20 people who are in congregate living facilities.
"These outbreaks are either confirmed cases in a resident or staff member at a congregate living facility," Kris Ehresmann said. "We knew we would see this. … We're seeing more cases (in congregate living facilities) as we see more cases in the communities. These facilities are our focus and concern right now."
Ehresmann is the director for MDH Infectious Disease Epidemiology, Prevention and Control Division.
As cases have been identified in these facilities, MDH is working with those facilities to contact family members and educate them on the situation.
Of the 441 cases in Minnesota, 220 have been released from isolation.
"That's definitely a positive," Ehresmann said. "And, the number of hospitalizations overall really match what we've seen globally and nationally. Really, there's nothing particularly different about what's happening in Minnesota."
Ehresmann did not state when Minnesota would see its highest spike in cases but reiterated the importance of following the Centers for Disease Control and Prevention Guidelines to slow and reduce the spread of the virus.
Symptoms of COVID-19 include a fever, cough and muscle aches. If an individual has any signs of a cold, they need to remain in isolation and out of the public for seven days and at least three days without symptoms.
"We can't test everyone," she said. "If you feel sick at all, please stay at home. If the population is focusing on self-monitoring and isolating themselves, that will go a long way in reducing transmission."
Counties with cases include (and number of confirmed cases*): 
Anoka (12)
Beltrami (2)
Benton (1)
Big Stone (1)
Blue Earth (7)
Carver (9)
Cass (1)
Chisago (1)
Clay (4)
Clearwater (1) 
Dakota (33) 
Dodge (6)
Faribault (1)
Fillmore (5)
Goodhue (2)
Hennepin (152) 
Jackson (1)
Kandiyohi (1)
Lac qui Parle (1)
Le Sueur (11)
Lincoln (1)
Mahnomen (1)
Martin (19)
Mower (11)
Nicollet (3)
Olmsted (37)
Ramsey (42) 
Renville (1) 
Rice (3)
Scott (8)
Sherburne (5)
Sibley (1)
St. Louis (5) 
Stearns (5)
Steele (5) 
Wabasha (4)
Waseca (3)
Washington (25)
Wilkin (1)
Winona (4)
Wright (5) 
*The data may not equal the total number of reported cases, according to the Minnesota Department of Health.